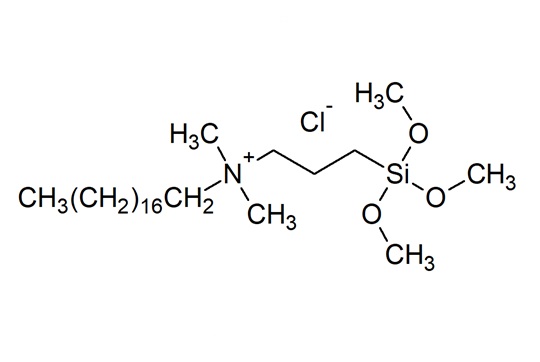 Dimethyloctadecyl[3-(trimethoxysilyl)propyl]ammonium chloride (mixture)
| | |
| --- | --- |
| Product Code | P-016370 |
| CAS No. | 27668-52-6 |
| Synonyms | N,N-Dimethyl-N-(3-(trimethoxysilyl)propyl)octadecan-1-aminium chloride |
| Package | 1000 kg ISO container |
| Purity etc. | 40 % |
| Application | Antiviral and antibacterial agent |
Additional information
CHEMICAL STRUCTURE

CHEMICAL NAME & DETAILS
Chemical name

Dimethyloctadecyl[3-(trimethoxysilyl)propyl]ammonium chloride

Product code

P-016370

CAS RN

27668-52-6

HS Code

2933.69.90

Molecular formula

C

26

H

58

NO

3

Si

・

Cl

Molecular weight

496.29
SPECIFICATION
Physical appearance

Yellow to Brownish Liquid

Stability in dilute acids

Stable

Stability in dilute alkalis

Stable

Ionic nature

Cationic

pH of 1% solution

4

~

6

Solid content

38

~

42 %

Solubility

Miscible with water

Moisture content(KF)

NMT 1.00 %

APHA Colour

NMT 150
APPLICATION
- Venus-5700 is an antiviral and antibacterial agent suitable for all types of plastic polymers.
- Venus-5700 is a silanol quaternary ammonium compound having a hydroxyl or hydrolyzable silane group capable of undergoing a condensation polymerization reaction to form a homo or copolymer or forming a covalent bond with the plastic or other components in the plastic composition.
- It possess bacteriostatic, fungistatic, algaestatic and bacteriocidal,fungicidal and algaecidal properties.
The method involves dispersing Venus-5700 uniformly throughout the plastic for example, By compound extrusion processing of such plastics when in a fluid state.
a) The dispersion process uses Venus-5700 either neat or pre-dispersed in plasticizers or pigments commonly used in plastic extrusion processes, OR in form of a Masterbatch concentrate.
b) The dispersion process can also be done in solvent followed by solvent evaporation/recovery and then cast, molded, rolled into desired form.
c) Concentration of Venus-5700- 1 to 6% (Depending on the polymer and application)
Key Features Benefits:
| | |
| --- | --- |
| Non-leaching | Durable to multiple washes |
| Universal | Suitable for all types of plastics and polymers |
| Broad spectrum | Works on all types of microbes such as Staphylococcus aureus, Escherichia coli, Klebsiella pneumoniae, Methicillin - Resistant Staphylococcus aureus (MRSA), Aspergillus Niger, Viruses |
| Ease of application | Can be formulated into concentrated powder, liquid suspension or masterbatch pellet |
5. HAZARD CLASSIFICATION
* This product is classified as hazardous goods: UN3082
* GHS hazard pictograms:


6. CAPACITY
5 MT per month
7. STORAGE CONDITION
Store in closed container at the ambient temperature, away from direct sun light.
8. PACKING DETAILS
50 kg HM HDPE barrel / 180 kg HM HDPE barrel
9. SHELF LIFE
24 months from the date of packing in closed container.